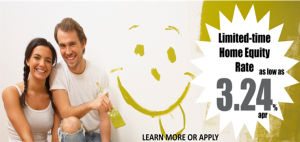 For a limited time, our home equity rate is 3.24% apr*!
Have equity in your home? Take advantage of this great rate while it lasts! Apply now!
Do you need to make home improvements, consolidate debt, or make a larger purchase? DMMCU can help you borrow for what you need and at a low rate! We can even help you refinance your first mortgage!
The interest you pay on a home equity loan is often tax-deductible. Consult your tax advisor.**
This limited-time offer expires 9-30-16! Call us today for more information or apply now!
*3.24% apr=annual percentage rate. Existing loans at DMMCU do not qualify. Rates are with qualifying credit and subject to change without notice; some restrictions apply. 64-month balloon, fixed-rate home equity loan with maximum amortization period of 25 years. Payment example: 63 payments of $170.37 and final payment of $170.02 based on a $10,000 balance and 64-month term. **Consult your tax advisor to determine if the interest you pay is tax-deductible.